Maybe you check to see if the iron is switched off multiple times, maybe you get anxious about a stain on the carpet as it could be contaminated or maybe you get flashing thoughts pop into your head about harming someone. What ever your symptoms the below advice should help you find out if you have OCD or not.
The UK charity OCD Action have a great resource for a self-assessment OCD test. Their screening test will help you see if your symptoms are similar to those of someone with Obsessive Compulsive Disorder. With this information you can decide whether to see a therapist, or find out more through further research, and OCD self-help books.
To take the OCD test visit OCD Action >>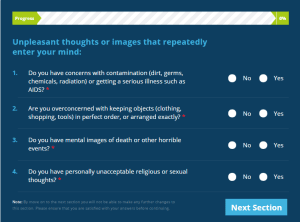 I often get asked what books people should read to help their recovery from OCD. There are many great books that can help you find out more about OCD and how to treat it. I believe knowledge is power in the fight against OCD. Regardless of what stage you are at in your recovery, I believe these 5 books will help push you towards that peace of mind.
In no particular order:
1. Get out of your mind and into your life by Dr Steven Hayes
"Get out of your mind and into your life" is a great introduction to Acceptance and Commitment Therapy (ACT). ACT helped me massively in my recovery, I'm confident it may help you.
2. The mindfulness workbook for OCD by Jon Hershfield & Tom Corboy
"The mindfulness workbook for OCD" is good because it's interactive. There are many exercises in the book all based on mindfulness, which I think will become more important in OCD recovery in future years.
3. The ultramind solution by Dr Mark Hyman
"The ultramind solution" is brilliant because he looks at how nutrition can improve mental health. It's not something that gets talked about a lot. In this book he gives lots of scientific research to back up his points and the book will help you with your nutrition for better mental health.
4. Daring to challenge OCD by Joan Davidson
Exposure and response therapy (ERP) can be very scary. Facing your fears is scary. If you are considering ERP, but are currently hesitant, this book will help you rip down the barriers that are preventing you for taking action.
On Amazon UK
On Amazon USA
5. Brain Lock by Dr Jeffrey Schwartz
I wanted to put this book in the mix, because Jeffrey's 4 step model is quite good and works well for some people. It's somewhat similar to ACT.
On Amazon UK
On Amazon USA
So there you have it. I hope those books inspire you on your journey of recovery. If there are any other books you recommend please drop me an email. Always open to new recommendations!
To your success,
Stu
P.S. Apologies if you are outside the UK or USA. I could only put so many links 🙂 Your local bookshop or Amazon should have them!