In episode 78 I share an analogy for intrusive thoughts. I understand things more through the use of analogies, metaphors and stories. I hope this analogy gives you some inspiration, and understanding.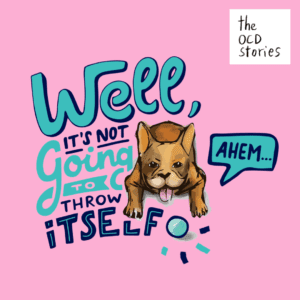 To listen on iTunes click the button, or go to iTunes and search "The OCD Stories". If you enjoy the podcast please subscribe and leave a review. It helps us reach more people who need to hear these remarkable stories of recovery!
You can also listen on Android and over devices through most podcast apps, such as Stitcher.
Resources:
Dr Joan Davidson on the podcast / "Daring to challenge OCD" book (Amazon.co.uk/Amazon.com)
Dr Chad LeJeune on the podcast / "The Worry Trap" book (Amazon.co.uk/Amazon.com)
Dr Steven Hayes on the podcast / "Get out of your mind and into your life" book (Amazon.co.uk/Amazon.com)
Geoff Thompson podcast
The OCD Stories book >>
Sponsors:
This podcast is also brought to you by nOCD. Download the app for free and they will donate $0.50 to an OCD charity on your behalf: http://m.treatmyocd.com/ocdstories
To your success,
Stuart and The OCD Stories team
Support our videos and get rewards by becoming an The OCD Stories patron: https://www.patreon.com/theocdstories