In episode 97 I interviewed Mark Freeman. We recently ran a workshop together in London, so we took some time to reflect on the event, and talk generally about OCD recovery.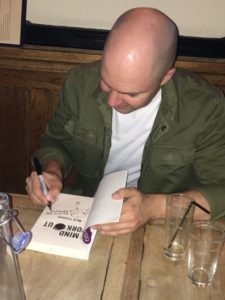 In this episode I chat with Mark for the 4th time! We talk about our recent workshop in London, dealing with uncertainty, learning from difficult situations, questions Mark got asked on his workshops, how compassion and empathy can help, awareness for building empathy, putting a price on compulsions, straight forward mindfulness, getting curious about anxiety, and trusting yourself. Enjoy!
[embedyt]https://youtu.be/eyFlju5I5E8[/embedyt]


To listen on iTunes click the button, or go to iTunes and search "The OCD Stories". If you enjoy the podcast please subscribe and leave a review. It helps us reach more people who need to hear these remarkable stories of recovery!
You can also listen on Android and over devices through most podcast apps, such as Stitcher.
Show notes:
When Mark came to London (2:00)
The key questions that Mark got asked in his 3 UK workshops (12:15)
What challenges Mark faced on his travels and how he dealt with them (32:20)
Putting a price on compulsions (37:00)
A basic mindfulness exercise (39:40)
Being curious about anxiety (49:40)
"Maybe imbalances aren't in your head, maybe they're around you" (58:30)
The one thing that has changed about Mark's view of mental health (1:11:40)
The heaven question – "If heaven exists, what would you want God to say to you when you get there" (1:19:50)
Find out more about the Mark:
"The Mind Workbook" by Mark Freeman (Amazon.co.uk)
Audible free trial (get Mark's audio book for free) – Audible.co.uk/free-trial
Website: http://www.markfreeman.ca
Youtube: https://www.youtube.com/user/everybodyhasabrain
Twitter: http://www.twitter.com/thepathtochange
Everybody has a brain: http://everybodyhasabrain.tumblr.com/
Resources:
Mark's OCD story
Mark's first podcast – Mark Freeman-on his recovery from OCD and how you can beat it
Mark's second podcast – Mark Freeman Internet Addiction, OCD and Living in Uncertainty
Mark's third podcast – The mind workout
The OCD Stories book >>
Sponsors:
This podcast is also brought to you by nOCD. Download the app for free and they will donate $0.50 to an OCD charity on your behalf: http://m.treatmyocd.com/ocdstories
To your success,
Stuart and The OCD Stories team
Get exclusive podcasts and content by becoming a member of the podcast find out more here >>