Needles.
Hypodermic needles were my first fear.  The doctor's office became home to my nightmares.  Sharp objects—knives, spears, and swords—became my first obsession.  My first compulsion was to hold a sharp object against my chin—GI Joe's scuba knife, a Fort Apache spear, or Galahad's tiny sword—grit my teeth, and count.
When I was 13, I needed a booster shot.  In the weeks before it happened, I developed a new obsession: glass.  I collected sharp pieces of glass from the roads and sidewalks.  I collected rusted bottle caps.  I collected sharp stones.  It had never occurred to me before, but what if a sliver of glass gets caught in a car tire, gradually sinks deeper and deeper into the tread, and finally causes a blowout on the freeway?  If I didn't keep filling my coat pockets with the dirty little "hazards" I plucked from the ground, someone might die in a car accident.
When I was 19, I rolled out of a moving car and ran as fast and as far as I could.  It probably saved my life. If it hadn't been for the two black eyes, the gravel embedded in my back, and the two painful head wounds beneath my bloody hair, I would not have recalled anything but a chilling scream.  I desperately wanted to remember more. I wanted to remember more when I panicked without reason and pulled my car to the side of the road, when I turned and chased the images that lurked along the dark edges of my brain, when I told the story of how I'd rolled out of a car and mysteriously wakened entangled in an electric fence.
I remembered being alone.
I was still alone six months later when I made my first cry for help, written on the block wall of my dormitory room in my own blood: HELTER SKELTER.  Two weeks later, the dormitory supervisor, the Dean of Students, and a therapist sat across an office from me. "You did this with a knife?" asked the therapist.
"I was drunk," I said, having second thoughts about publicizing my trauma on the wall. "It was just a bad joke," I stammered.  "I just wanted to show everybody how much pain I can take."  Thus did I refuse their offer of  help, and subsequently got kicked out of the dormitory.  I didn't even get the chance to tell them my evolving tale about my heroic fight against multiple assailants, how I was pushed from a moving car, and that I had a waking nightmare about a mysterious woman who chased me through the woods and into a cattle fence.
After flunking out of college, I became obsessed with my nightmares, so obsessed that I recorded my dreams—along with every related memory—and sent my records to Dr. J. Allan Hobson, Director of The Laboratory of Neurophysiology at Harvard Medical School.  He wrote back, impressed with my level of detail, and encouraged me to write more.  In order to maintain that good impression, I stopped chasing random images.  One day, however, a unexpected image popped into my head: Barney Rubble.  I couldn't stop him.  I panicked….  If I dreamed about The Flintstones I would look silly to Dr. Hobson.  Sure enough, Barney Rubble appeared in my dream that night, so he had to appear in my dream record too.  Barney Rubble had to appear on Dr. Hobson's desk at Harvard Medical School.
Once, just to get Hobson's opinion, I included a brief addendum to my dream records.  I wrote about forcing a needle under my fingernail a month after I flunked out of college. Mysteriously, it was the only thing beside alcohol and marijuana that brought me relief from anxiety.  I described my actions in details graphic enough that nearly 30  years later, my therapist—sorry Rita—nearly wretched.  I qualified my description to Hobson with an admission that self-injury is a terrible thing, though it enabled me to dissociate myself from physical pain.  He called it "self-hypnosis" and urged me to add more details.
He told me to write about it "without apology."
It took me 30 years to follow that advice. For the last 14 of those years, I found a use for my trauma by working with traumatized youth in various schools.  It was not until my 14th year in the field that I received my first poor performance review. My supervisor qualified comments like "passive," "not proactive," and "needs improvement," with the phrase, "We're not saying that you're doing lousy."
Having cleaned my own blood off the block wall of the school earlier that same day,  it triggered me.  I called my supervisors together again—the On Grounds Supervisor, the Director of Services, and a the Therapeutic Director — and told them my story.  For the first time in my life, I told the truth: I jumped out of that car.
I passed out three copies of this letter:
On Monday March 6, 2017, I attended my mid-year performance review with AB and HP.  After reading a sheet of predominantly very negative comments that concluded with "needs improvement," AB stated that I was "passive," "not proactive," and then thankfully, "we're not saying you're doing lousy."
Having poured both heart and soul into this job for roughly 4800 hours, you can imagine how the negativity of the review and the flippancy of AB made me feel.  I offer this letter in my defence.
First, and foremost, I am not passive.  The manner with which I deal with traumatized children was forged in personal experience.  Having survived an attempted abduction as a teenager, escaping with significant head trauma, barbed-wire lacerations, and permanent flashbacks of a long run in the dark, I make a constant effort to use my experiences to empathize with the children we serve.  My gentleness during crisis is simply my attempt to treat others as I wished that I would have been treated myself—it is not a form of weakness.
Second, I make every effort I can to be proactive, beginning with the morning huddle.  I predict the behaviors of the clients I know best and I am more than willing to strategize with everyone.  Last week I predicted that we "have about five minutes till ES melts down."  I was wrong: it took ten.  Nonetheless, I was ready to intervene when the meltdown came.
Another meltdown came today.  I thought about AB's statement as I followed ES down the street alone through the gusting wind while wearing a T-shirt: "We're not saying you're doing lousy."  When I finally returned to the building, I noticed, on the wall by the second landing at door 8, the streak of blood left by my hand after a difficult hold on Wednesday afternoon, March First.
I cleaned it up.
Sincerely,
Craig Boyer MHP
It had been nearly 34 years since my escape.  Today, my struggle against the impact of that trauma gives me access to an imperturbable calm. I use it whenever a client punches me in the stomach, spits in my face, or tears my hand open on the sharp edge of a block wall.  Conquering my childhood fear in the summer of my 20th year not only taught me to dissociate from pain, but it also taught me the value of patience.
Recovery takes a  lifetime.
THIS NEEDLE, RUSTED AND BROKEN, WAS SURGICALLY REMOVED FROM MY WRIST IN NOVEMBER OF 1984.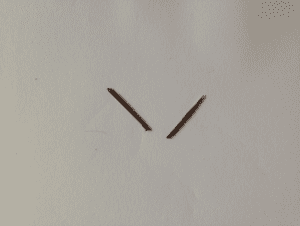 V FOR VICTORY PHOTO 2015