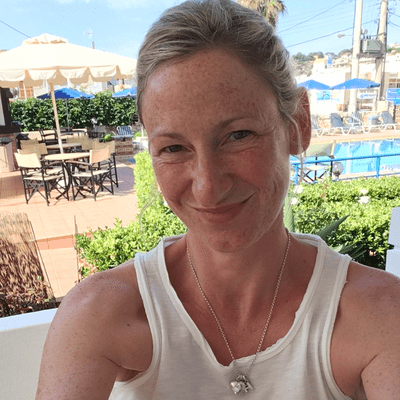 In episode 349 I chat with Anna Geldard who has kindly agreed to share her story with us. 
We discuss some of her childhood mental health experiences, school anxiety, how OCD affected her work, she details some of her specific OCD experiences, depression, medication, postnatal/postpartum experiences of OCD, getting diagnosed, getting therapy, harm themed OCD, a relapse, hit and run themed OCD, getting therapy again, going inpatient, feeling suicidal, how menopause may have exacerbated some of her mental health symptoms,  hormone replacement therapy (HRT) for menopause, and much more. Hope it helps. 
The podcast is made possible by NOCD. NOCD offers effective, convenient therapy available in the US and outside the US. To find out more about NOCD, their therapy plans and if they currently take your insurance head over to https://go.treatmyocd.com/theocdstories
Find out more about Anna:
Instagram:
Her OCD account: https://www.instagram.com/standinginthestorm_ocdandme/  
Her personal account: https://www.instagram.com/annas.ever.after/ 
Resources:
Book "Overcoming Obsessive Compulsive Disorder" by Professor David Veale and Rob Willson – https://amzn.to/3RrGHNV 
Shannon Shy and his book Turning Points https://amzn.to/3dYtU7V  
Menopause and perimenopause resources that Anna wanted to share at the end of the episode (her words below):
https://www.balance-menopause.com/ ….this is a brilliant website with so much evidence based information 
https://thebms.org.uk/ ….The British Menopause Society 
Books:
Preparing for the perimenopause and menopause by Dr Louise Newson https://amzn.to/3rkLKVz 
Menopause and Madness: the truth about estrogen and the mind by Marcia Lawrence https://amzn.to/3rkLXYR 
Apps:
Balance App …free app that has a ton of information about menopause, community chats, tracking your own symptoms and period tracker (you can print these charts out from the app to take to the doctor with you) 
Instagram:
Dr Louise Newson
Louise is a menopause specialist doctor who has a very keen interest in all aspects of menopause including mental health. Her podcast has many episodes focusing on the mental health aspects of menopause including suicide related to menopause. Louise has been fundamental in increasing awareness of menopause and hormone health amongst psychiatrists and has been doing training at the Maudsley and has recently helped write a hormone & mental health module for the royal college of psychiatrists. 
All the best,
Stuart