Get exclusive podcasts and content by becoming a member of the podcast  find out more here >>
In episode 129 of The OCD Stories podcast I interviewed Dr Jenny Yip. Jenny is a clinical psychologist who specilises in OCD and anxiety. Jenny runs the Renewed freedom center based in Los Angeles. She is also a clinical advisor to the nOCD app, and author of the book Productive, Successful YOU! : End Procrastination by Making Anxiety Work for You Rather Than Against You.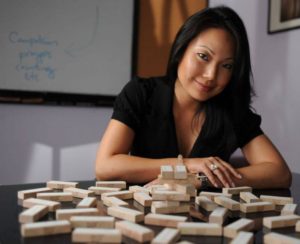 In this episode I chat with Jenny about her OCD story including postpartum OCD, how OCD fears are unique to each person, exercise and meditation – mindful walks/yoga, the importance of a patients belief in the process of therapy, involving the family in treatment so that the standards in therapy are maintained in the home i.e. no reassurance seeking, parents being role models for living with discomfort i.e. refusing to play into compulsions, reducing the amount we use our phones, and much much more. Hope it helps.
Listen on all podcast apps, and Spotify. Or listen direct on our website

here

To listen on iTunes click the button, or go to iTunes and search "The OCD Stories". If you enjoy the podcast please subscribe and leave a review. It helps us reach more people who need to hear these remarkable stories of recovery!
You can also listen on Android and over devices through most podcast apps, such as Stitcher.
Find out more about Jenny:
Website: www.RenewedFreedomCenter.com
Facebook: https://www.facebook.com/drjennycyip/
Twitter: https://twitter.com/DrJennyYip
Instagram: https://www.instagram.com/drjennyyip/
Book: Productive, Successful YOU! End Procrastination by Making Anxiety Work for You Rather Than Against You
Podcast: The Stress-Less Life with Dr. Yip
Resources:
Damon Horowitz – TED Talk
The OCD Stories book >>
To your success,
Stuart
Get exclusive podcasts and content by becoming a member of the podcast  find out more here >>