Get exclusive podcasts and content by becoming a member of the podcast  find out more here >>
In episode 138 of The OCD Stories podcast I interviewed Lucy Danser and Sam Ross about their OCD stories, their plays and creativity, all in-person from the Edinburgh Fringe Festival.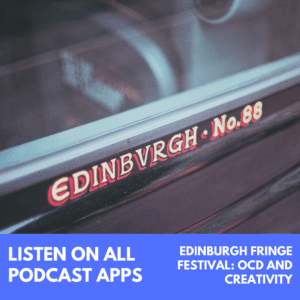 In this episode I chat with Sam and Lucy about their OCD stories, their recovery journeys, their plays, advice for people who want to be creative or express themselves through the arts, how pets can sometimes help well-being, and much much more. Hope it helps.
Listen on all podcast apps, and Spotify. Or listen direct on our website

here

To listen on iTunes click the button, or go to iTunes and search "The OCD Stories". If you enjoy the podcast please subscribe and leave a review. It helps us reach more people who need to hear these remarkable stories of recovery!
You can also listen on Android and over devices through most podcast apps, such as Stitcher.
Find out more about Sam and Lucy:
Sam's Instagram: @SamDoesTheatre
Lucy's Instagram: @LostInThoughtPlay
Resources:
The OCD Stories book >>
To your success,
Stuart
Get exclusive podcasts and content by becoming a member of the podcast  find out more here >>