Get exclusive podcasts and content by becoming a member of the podcast  find out more here >>
In episode 118 of The OCD Stories podcast I interviewed Ethan Smith. Ethan is a professional Writer/Director/Producer. Ethan is a national ambassador for the charity the IOCDF.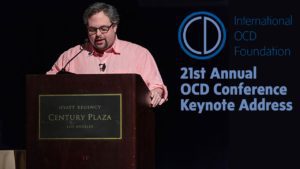 I talked with Ethan about his OCD story, and his recovery. Ethan breaks down what worked for him and his recovery journey. We talk about how ERP helped in his recovery, and how ACT also played a part. Ethan talks about self-compassion, getting into nature and the power of choices. Ethan's words of experience offer hope and inspiration. Hope it helps. 
Listen on all podcast apps, and Spotify. Or listen direct on our website

here

To listen on iTunes click the button, or go to iTunes and search "The OCD Stories". If you enjoy the podcast please subscribe and leave a review. It helps us reach more people who need to hear these remarkable stories of recovery!
You can also listen on Android and over devices through most podcast apps, such as Stitcher.
Find out more about Ethan:
Ethan's full bio
Ethan's 2014 keynote speech
Ethan's first episode on The OCD Stories podcast
Resources:
The IOCDF – IOCDF.org
The Peace of Mind Foundation – PeaceofMind.com
"Man's Search for meaning" book by Viktor Frankl (Amazon)
The OCD Stories book >>
Sponsors:
This podcast is also brought to you by nOCD. Download the app for free and they will donate $0.50 to an OCD charity on your behalf: http://m.treatmyocd.com/ocdstories
To your success,
Stuart
Get exclusive podcasts and content by becoming a member of the podcast  find out more here >>