Interested in The OCD Camp? Check out TheOCDCamp.com
In episode 124 of The OCD Stories podcast I interviewed 6 of the campers who attended the first UK OCD camp, to find out more about their experiences and what they learned.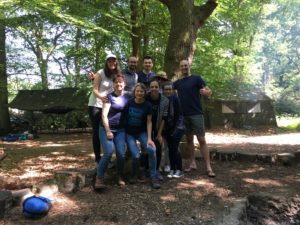 In this episode my 6 guests talk about the weekend and what they enjoyed about it, including: Not feeling alone, seeing others face their fears, the ambience of the camp, exposures, music, living a value led life, feeling safe to open up and share, as well as much much more. Hope it helps. 
Listen on all podcast apps, and Spotify. Or listen direct on our website

here

To listen on iTunes click the button, or go to iTunes and search "The OCD Stories". If you enjoy the podcast please subscribe and leave a review. It helps us reach more people who need to hear these remarkable stories of recovery!
You can also listen on Android and over devices through most podcast apps, such as Stitcher.
Find out more about the camp:
Website – TheOCDCamp.com
Resources:
Pete's camp in America: TeenOCDCamp.com
The OCD Campground was at – BigHatBushCamp.co.uk
My original interview with Elke – episode 102
Jess' fundraising page (climbing 17 mountains)
The OCD Stories book >>
To your success,
Stuart
Get exclusive podcasts and content by becoming a member of the podcast  find out more here >>