DISCLAIMER – This is an exploratory interview into the potential of psychedelics as a treatment for OCD. This is NOT a how to guide. If you take psychedelics, you do so at your own risk. 
In episode 35 of The OCD Stories podcast I interviewed Adam Strauss. Adam is a comedian, who has OCD and has used psychedelics as part of his recovery. He created a one man show about his journey with OCD and his recovery. The show is called The Mushroom Cure and is the winner of the overall excellence award at the New York fringe festival.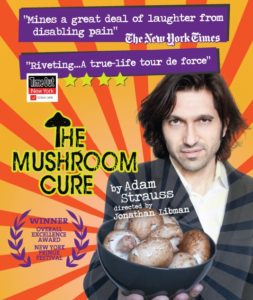 I chat with Adam about his battles with BDD, OCD, OCPD and Anxiety. We explore his journey into using psychedelics in his treatment of OCD. We discuss the legality of it all, as well as the research around these psychedelics. Adam suggests how with enough research we could make them legal for medicinal reasons and have dedicated clinics to administer these drugs alongside therapy. We discuss the importance of acceptance in OCD recovery and how embracing death can inspire you. This was one very thought provoking interview. Enjoy.
Listen on all podcast apps, and Spotify. Or listen direct on our website

here

To listen on iTunes click the button, or go to iTunes and search "The OCD Stories". If you enjoy the podcast please subscribe and leave a review. It helps us reach more people who need to hear these remarkable stories of recovery!
You can also listen on Android and over devices through most podcast apps, such as Stitcher.
This podcast is also brought to you by nOCD. Download the app for free and they will donate $0.50 to an OCD charity on your behalf: http://m.treatmyocd.com/ocdstories
Show notes:
Adam's OCD story (5:40)
Events triggering OCD (19:00)
Body Dysmorphic Disorder (BDD) (23:00)
ERP (25:00)
Acceptance and Commitment Therapy (ACT) (27:40)
How Adam started exploring mushrooms (Psilocybin) (29:00)
Psychedelics shifting perceptions (37:00)
Learning acceptance (41:30)
The legality of psychedelics (45:00)
How much did mushrooms help Adam (53:00)
Obsessive Compulsive Anonymous (55:40)
The one thing you should know about psychedelics (59:00)
The Mushroom Cure show (1:06:00)
Adam's one piece of advice (1:11:30)
Adam's advice for living an amazing life(1:13:30)
What Adam would have on his billboard (1:19:00)
Find out more about Adam:
Adam on Twitter – @atomstrauss
Adam Strauss  – http://adamstrauss.com/
The Mushroom Cure – http://themushroomcure.com/
Can psychedelics cure OCD? – Huffington Post
Resources:
Safety, tolerability, and efficacy of psilocybin in 9 patients with OCD by FA Moreno
Multidisciplinary Association of Psychedelic Studies – http://www.maps.org/
Heffter Research Institute – https://heffter.org/
Beckley Foundation – http://beckleyfoundation.org/
Obsessive Compulsive Anonymous – http://obsessivecompulsiveanonymous.org/
Sponsors:
This podcast is also brought to you by nOCD. Download the app for free: http://m.treatmyocd.com/ocdstories
To your success,
Stuart and The OCD Stories team
Get exclusive podcasts and content by becoming a member of the podcast find out more here >>