Help me reach more people with the podcast by leaving a review on iTunes, click here >
In episode 82 I interviewed Dr Ariz Rojas. Dr Rojas-Cifredo is a licensed psychologist in the Division of Tics, OCD, and Related Disorders in the Department of Psychiatry, Icahn School of Medicine at Mount Sinai.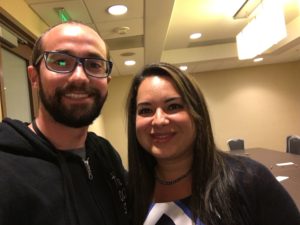 I had a great chat with Ariz who kindly shared her time with us. We discussed group ERP vs one-to-one ERP, how treatment of childhood OCD differs from adults, how to motivate kids to do ERP exposures, explaining OCD and anxiety to children, advice for parents and much much more. Enjoy!
"Emotions are temporary, your values are consistent" – Dr Ariz Rojas
Listen on all podcast apps, and Spotify. Or listen direct on our website

here

To listen on iTunes click the button, or go to iTunes and search "The OCD Stories". If you enjoy the podcast please subscribe and leave a review. It helps us reach more people who need to hear these remarkable stories of recovery!
You can also listen on Android and over devices through most podcast apps, such as Stitcher.
Show notes:
Ariz's story (4:00)
How does treatment for OCD differ in Adults and Children? (7:00)
Reward system to motivate kids in ERP (10:00)
How group therapy differs from individual therapy in ERP (11:25)
Doing exposures with kids (15:00)
How has Ariz's therapy style changed over the years? (17:00)
What are the latest research on the causes of OCD? (19:45)
What to do when your kid is an expert in ERP (21:20)
How do you explain OCD and anxiety to a child? (24:20)
How to avoid passing OCD onto your children (27:50)
How parents can support their kids who have OCD (31:30)
Billboard question (33:50)
Advice for living an amazing life (34:40)
Final words of wisdom (36:05)
Find out more about the Ariz:
Website – MountSinai.org
Resources:
The OCD Stories book >>
Sponsors:
This podcast is also brought to you by nOCD. Download the app for free: http://m.treatmyocd.com/ocdstories
To your success,
Stuart and The OCD Stories team
Get exclusive podcasts and content by becoming a member of the podcast find out more here >>