In episode 111 I interviewed Dr Edna Foa. Edna is a Professor of Clinical Psychology in Psychiatry at the University of Pennsylvania and Director of the Center for the Treatment and Study of Anxiety. She has devoted her academic career to study the psychopathology and treatment of anxiety disorders, primarily obsessive-compulsive disorder (OCD), post traumatic stress disorder (PTSD), and social phobia. In 2010 TIME magazine named Edna one of their 100 most influential people in the world. In 2011 she was awarded the Outstanding Career Achievement Award by the IOCDF.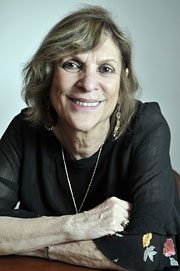 In this episode with Edna we chat about her therapy story, the history of ERP, cure vs recovery, characteristics of Edna's most successful patients, motivation/determination in recovery, OCD research, OCD and PTSD, is there an association between treating OCD and PTSD?, research on intensive ERP therapy vs non-intensive, Edna's words of hope for people with anxiety disorders (including OCD) and advice for a good life. Enjoy! 
Listen on all podcast apps, and Spotify. Or listen direct on our website

here

To listen on iTunes click the button, or go to iTunes and search "The OCD Stories". If you enjoy the podcast please subscribe and leave a review. It helps us reach more people who need to hear these remarkable stories of recovery!
You can also listen on Android and over devices through most podcast apps, such as Stitcher.
Find out more about Edna:
Edna's academic page: med.upenn.edu
(One of) Edna's book "Stop obsessing" (Amazon)
Resources:
The OCD Stories book >>
Sponsors:
This podcast is also brought to you by nOCD. Download the app for free and they will donate $0.50 to an OCD charity on your behalf: http://m.treatmyocd.com/ocdstories
To your success,
Stuart and The OCD Stories team
Get exclusive podcasts and content by becoming a member of the podcast find out more here >>