In episode 92 I interviewed Kimberley Quinlan. Kimberley is a Licensed Marriage and Family Therapist who treats people with OCD and related disorders, Eating Disorders and Body Focused Repetitive Disorders. She runs her own podcast called Your Anxiety Toolkit. Kimberley also trained at the OCD centre of Los Angeles, and later became the clinical director.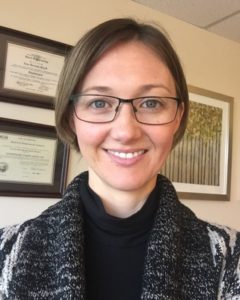 In this episode I chat with Kimberley about radical acceptance. We discuss what is radical acceptance, accepting thoughts doesn't mean agreeing with them, accepting the thought not the content of the thought, "as it is", difference between pain and suffering, the second arrow story, how radical acceptance is useful for OCD recovery, practice radically accepting in non-OCD areas to build up the skill, curiosity, the yes meditation, and the loving yourself. Enjoy!
Listen on all podcast apps, and Spotify. Or listen direct on our website

here

To listen on iTunes click the button, or go to iTunes and search "The OCD Stories". If you enjoy the podcast please subscribe and leave a review. It helps us reach more people who need to hear these remarkable stories of recovery!
You can also listen on Android and over devices through most podcast apps, such as Stitcher.
Show notes:
What is radical acceptance? (2:45)
Accepting thoughts isn't agreeing with them (4:00)
"as it is" (7:40)
"Suffering is optional, pain is not" (12:10)
The second arrow story (14:00)
Accepting all the worries (17:40)
How radical acceptance is useful in OCD recovery (27:20)
Gradual acceptance (31:25)
The curious mind (35:10)
The yes meditation (38:10)
One area Kimberley has had to use radical acceptance recently in her life (43:10)
Giving yourself permission (48:00)
Radical acceptance vs radical self-acceptance (51:10)
Loving yourself (53:00)
Find out more about the Kimberley:
Kimberly's podcast
http://kimberleyquinlan-lmft.com/podcast-blog/
Kimberly's Instagram
Resources:
Tara Brach
Sponsors:
NOCD: http://go.treatmyocd.com/theocdstories
To your success,
Stuart and The OCD Stories team