In episode 39 of The OCD Stories podcast I interviewed Ashley Fulwood. Ashley is the CEO of the charity OCD UK which aims to serve the 1 million people affected by OCD in the UK, and I'm sure their work has helped you wherever you are in the world.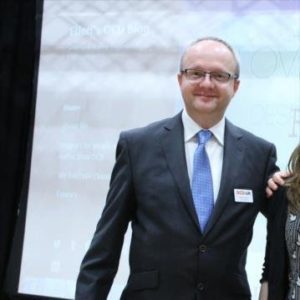 I chatted with Ashley about breaking down stigma, dealing with life areas beyond OCD, the idea of going beyond normal to get to normal and why OCD doesn't make us do anything, it makes us feel like we should do the compulsion. We discuss why setting deadlines are important to getting things done in recovery, why working on the cognitive part is also important in recovery, and why we need to be kind to ourselves. Enjoy.
Listen on all podcast apps, and Spotify. Or listen direct on our website

here

To listen on iTunes click the button, or go to iTunes and search "The OCD Stories". If you enjoy the podcast please subscribe and leave a review. It helps us reach more people who need to hear these remarkable stories of recovery!
You can also listen on Android and over devices through most podcast apps, such as Stitcher.
Show notes:
Breaking down stigma (4:00)
Ashley's OCD Story (15:00)
Sometimes you have to go beyond normal to get to normal (26:00)
Sexual contamination (28:00)
Cycling in recovery (40:00)
Be proactive in OCD recovery (49:00)
Why recovery is possible (54:00)
Do what you can in therapy (1:02:00)
Ashley's advice for therapists (1:04:00)
The main problem facing the charity (1:06:00)
How to donate time or money to OCD UK (1:10:00)
Ashley's one piece of advice people with OCD should stop doing (1:14:00)
Ashley's one piece of advice people with OCD should start doing (1:14:50)
Ashley's one piece of advice (1:15:50)
Ashley's advice for living an amazing life (1:16:40)
What Ashley would have on his billboard (1:23:00)
Find out more about Ashley and OCD UK:
Website:
OCD UK – http://www.ocduk.org/
Ashley's site – http://ashleyfulwood.uk/
Twitter:
OCD UK – https://twitter.com/ocduk
Ashley Fulwood – https://twitter.com/ashleyfulwood
Resources:
Paul Salkovskis
Break free from OCD by Dr Fiona Challacombe, Dr Victoria Oldfield and Paul Salkovskis (Amazon.co.uk/Amazon.com)
Make big talk TED Talk
To your success,
Stuart and The OCD Stories team