In episode 221 of The OCD Stories podcast I chat with Dr Steven Phillipson. Steven is a licensed clinical psychologist who specializes in Cognitive-Behavioral Therapy for OCD. He co-founded the first Support group for OCD sufferers in the New York area in 1987. Steven is the Clinical Director at the Center for Cognitive Behavioral Psychotherapy.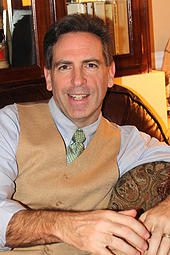 In this episode I chat with Dr Steven Phillipson's about what is a therapeutic relationship/alliance?, importance of a good therapeutic relationship, what is rapport in the therapy room?, an equal partnership for achieving therapy goals, the therapist's role, disclosure, time, trust, patients role, therapist shopping, transference in the relationship, love in the relationship, humour, managing diversity and difference in the therapeutic relationship, what to do if you feel your therapist isn't a good fit for you, how to approach the therapeutic relationship and much much more. Hope it helps.
Listen on all podcast apps, and Spotify. Or listen direct on our website here

To listen on iTunes click the button, or go to iTunes and search "The OCD Stories". If you enjoy the podcast please subscribe and leave a review. It helps us reach more people who need to hear these remarkable stories of recovery!
You can also listen on Android and over devices through most podcast apps, such as Stitcher.
Find out more about Steven:
Steven's website – OCDOnline.com
Podcast: Dr Steven Phillipson – Recovery From Thinking The Unthinkable
Podcast: Dr Steven Phillipson – How ERP works, and the power of choice
Podcast: Dr Steven Phillipson – What actually is OCD?
Podcast: Dr Steven Phillipson – Teletherapy for OCD
Podcast: Dr Steven Phillipson – Altered States of Consciousness & OCD
Podcast: Dr Steven Phillipson – Two tail spikes in OCD
Podcast: Dr Steven Phillipson – Magical thinking in OCD
Podcast: Dr Steven Phillipson – Choice (audiobook)
Podcast: Dr Steven Phillipson – Exposure and Response Prevention
Resources:
UK charities: OCD UK / OCD Action
The OCD Stories book >>
To your success,
Stuart